Babies may feel discomfort, experience pain and irrigation while their teeth begin to break through the gums during the teething which starts between early six months and late eight months. A teething ring is a baby toy to soothe the gums of a teething baby. A baby can bite, chew or rub the toy against their gums to help relieve their uncomfortable feelings. A baby teething ring is not only used to ease the unpleasant gums but also give the enjoyment to babies who like to have something that they can hold or put in their mouths.
Parents must be wise to choose a teething toy for their babies since there are different options. No worry! Here we are giving you the top ten best teething ring reviews both safe and nicely designed with colorful options.
1. Nuby Wacky Teething Ring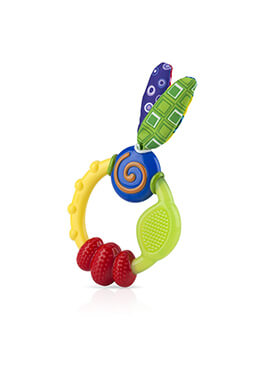 Are you looking for a teething ring for your baby? Nuby's Wacky Teething Ring is right choice! The toy is free from BPA, a chemical substance making impact on human body—hormone disruption. It comes with multiple teething surfaces: (1) skin soft silicone for front teeth teething, (2) larger surfaces for middle teeth teething and (3) firm surfaces for back teeth teething. It's especially designed with soft fabric to soothe and massage the gums and aid in the eruption of the new teeth. The softness and colorfulness will become your baby's absolute favorite when theytouch it. In addition, there is no bad smell.
2. Munchkin Twisty Figure 8 Teether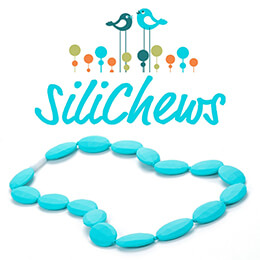 Twisty Figure 8 Teether from Munchkin has four soft teething surfaces, each with different textures. It gives a baby the right soothing sensation for annoyed gums. The multicolored design can be bent in a number of different ways. The Teether rattles, making it a perfect toy that babies find irresistible for learning fun. Your baby will enjoy the sense of chewing. It is very easy to clean, just hand wash and air dry. Look at the price! It is reasonable!
3. Nuby Icybite Hard/Soft Teething Keys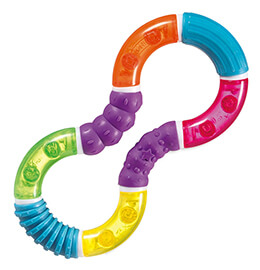 This is the special product! You can simply place it in the refrigerator. The product features multi-surface teething: front, middle and back teeth teething, which is absolute fit for your baby aged between three months and nine months. The BPA-free Nuby Icybite Teething Keys come with purICE technology that gives gentle cooling. The technology allows the teether to stay cooler when you put it in the refrigerator. The cool gel can help relieve the sore gums. It also aids the baby in the eruption of teeth. With the design of multi-colors and small size that is easy to grip with little hands, your baby will enjoy it for sure.
4. Baby Diva Teether Keys
Cooling and smoothing, non-toxic, baby safe and easy-to-clean! What are you waiting for if you are finding the right teether for your baby? Baby Diva Teether Keys give you several best options. You can freeze and use it to cool your baby's swollen gums. Soft teething surfaces help massage and provide pain relief effectively for both front teeth and molars. The toy is certified as free from BPA, PVC and other toxic chemicals. The teether is made of food-grade silicone that is completely safe for a baby when they put it in the mouth. Size is perfect for little hands. Vivid colors and different shapes will keep baby's attention. To sanitize, you can wash or boil it. No unpleasant smell or taste after wash!
5. Babynow Teether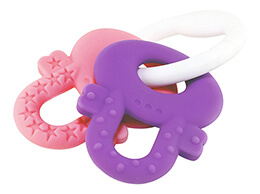 The Babynow Teether gets five stars rated on Amazon. Looking at the picture, you perhaps think it's hard. Instead, the toy is very soft. The bracelet-shaped teether is made of 100% food-grade silicone that is super safe for use and especially helps to ease the teething pain. The teether rings are 100% non-toxic: BPA & Phthalate free. With ridge design, the surface also aids a baby in developing motor skills and emotion—touch, taste and visual stimulation. You are recommended to wash each ring before use. You can shop the teether without any worry as Babynow offers lifetime-warranty.
6. Munchkin Fun Ice Ring Teether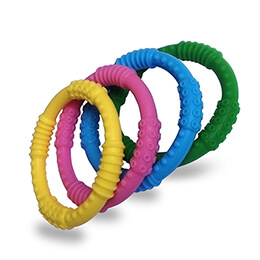 Every teething ring helps to massage and soothe the sore gums. But this Munchkin Fun Ice Ring Teether is more special than others. You can refrigerate or freeze it and the ice cool gel inside the teether gives extra pain relief to your baby. It's still soft although you freeze it. With small size, round shape and bright colors, your baby will find it fun and easy to chew. The toy is BAP-free.
7. Wimmzi Tutti Frutti Teether Toys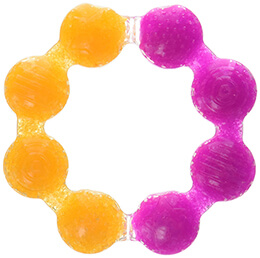 The teether gets five stars rated on Amazon. Wimmzi Tutti Frutti Teether not only relieves teething discomfort but also comes with colorful and super cute shapes of banana, grape, and watermelon. The design is fun, bright and eye catching for a baby. Your baby will be contented to play and chew. It fits well in your baby's mouth. The toy is made of food grade silicone and free from BPA. It's perfectly safe.
8. Dimples & Grace Fun Turquoise Teething Necklace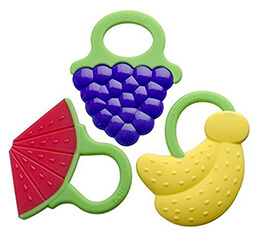 The Teething Necklace is specially designed for mom to wear while nursing or breastfeeding to provide both teething pain relief and entertain a baby with vivid colors. When your baby cries, you can show this toy and she will get attention and stay calm. It can also be frozen to give extra pain relief. The product made of food-grade and BPA-free silicone. There are no harmful toxins such as Phthalates and PVC. The necklace is very easy to clean by hand-washing or boiling. It is highest recommended in customer reviews and gets five star rates as best product on Amazon.
9. Mesinton Baby Teething Necklace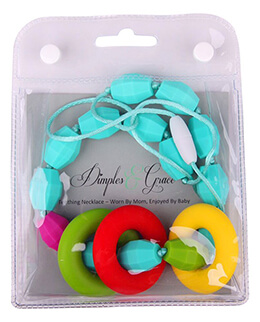 The teething necklace comes in nice design with five different vibrant colors options. Its gentle surface can ease baby's sore gums. It's for mom to wear and baby to play and chew while nursing. The silicone-made necklace is safe and free from dangerous toxins. You can wash it in the dishwasher or freeze it. The product is available in five colors: green, blue, pink, purple and yellow.
10. SiliChews Teething Necklace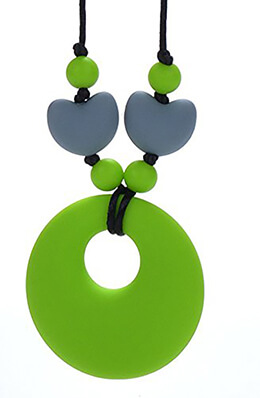 This is great work for breastfeeding moms! With attractive color and like your jewelry, your infant will just grab and play it. Each bead is made from toxins-free silicone, perfectly safe for your baby. The necklace can be frozen for extra pain relief. Its special feature is to make your baby feel at ease immediately. It's easy to clean by rinsing under the running water. The product is available in turquoise and pink only.
When shopping a baby teething ring, it's important to make sure that the product is 100% safe for your baby, meaning that it's not a choking hazard or made of toxins. The products should come in very soft silicone so that your baby won't bleed while biting or chewing. It would be better if the product can be frozen for added pain relief for the baby. The teething rings shown above have all these features with vibrant color designs and are available in the market.
All True Stuff is a participant in the Amazon Services LLC Associate Program, and we get a commission on purchases make via our link.