As toddlers grow, they are taught various tasks that they are supposed to encounter in life. One of them is how to maintain their teeth. But wonders will never end because parents have always been buying brushes that cause harm to their kids. We saw this problem and tried to help by coming up with the best brushes that have been proofed to be safe for use by children. Dentists have also given them a good credit as the best children toothbrush and can be used in families without any worry.
1. Dr. Fresh Toothbrush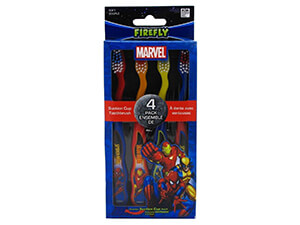 This brush comes with a powerful suction cup stand and has an ergo design which makes it easy for kids to handle and grab. The quality that has been used to make this brush is excellent. Its bristles are gentle on the gums and efficient on the teeth. If you have a kid that is learning how to use a toothbrush, then this is the best brush you can buy for him/her.

2. Care Bears Children's Soft Toothbrushes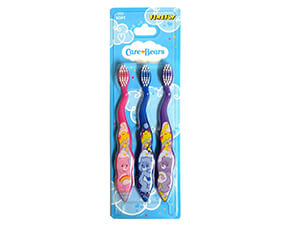 If you have children that are two years and older who have developed their front baby teeth and developing molars, then this toothbrush is the one that has been designed for them use. Give them a chance to have brushing fun by buying them these fresh and colorful designs. The best thing is that they will learn faster on how to use the brush and the importance of brushing their teeth.

3. Firefly Toothbrush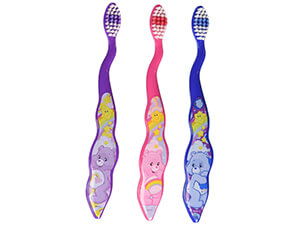 Children have delicate and small hands. Designers took this into the mind and made them soft, bright and colorful brushes so that they can make brushing fun at all times. It has fluffy bristles that are gentle on developing teeth but hard on germs because they will not give them a chance to thrive at all. It has been made with grip handles for little hands and reaches the innermost teeth and gums.

4. HOMMP Stand-up Toothbrush

This is a fantastic stand-up children's toothbrush. It has been equipped with suction 'feet' at the bottom so that children can attach them to a mirror or tiled surface after use. The bristles are of good quality and will work well when brushing teeth. The brushes are perfect for your children's mouths, and their price is fair. They come in a pack of six brushes, but the goodness is that each is packed separately and come in various types of brushes.

5. abcOralCare Toothbrush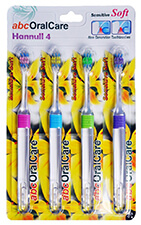 They have been made with US patented technology that produces ultra fine tip bristles for deep cleaning. Its bristles are also long and flexible and specially designed to remove and clean the private area that is hard to reach in the mouth. The triangle design of the brush helps to clean the indented surface of the teeth. We make and sell the highest quality brushes, have confidence in us and your child's teeth will always grow healthy.

6. RADIUS Kidz Toothbrush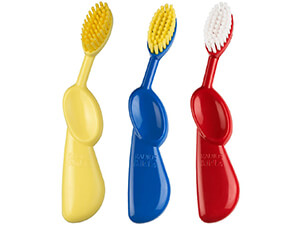 Some of you might wonder why we designed the brush with a broad oval shape. The main reason is that it will improve gum heath by massaging the whole mouth thus giving your child teeth that are totally clean. Each pack comes with three brushes that are suitable for kids with six years of age and above, eighteen months and above or three years and above. This means that we take care of children in all the age brackets. Come and choose the best brush in the market because we have it.

7. Radius Totz Toothbrush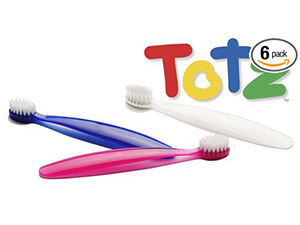 It has been made with the latest technology because the plasticizers used are not dangerous at all. Its handle is pure soft, and no harm will be caused as your kids are learning how to manage toothbrushes during their young age. They have a larger head than most of the toddler brushes, and the bristles are short and very soft. The toothbrush is durable and comfortable to grip. One secret is telling you is that if you buy them in a park, they are cheaper other than buying one out there. Hurry up and buy one before my secret is known.

8. MAM Learn to Brush Toothbrush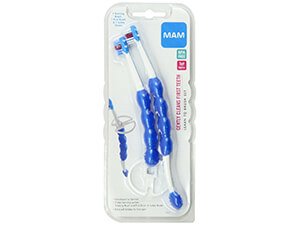 This is a perfect set for parents and children, and it has oral care products right from the start. We are not bragging, but one thing that makes this brush the best and suitable for you is that it has been achieved and developed by dentists. This ensures that children get used to regular oral hygiene step by step. With these brushes, dosing is simple; toothpaste goes right on the pink bristles. Just a touch is enough for babies, and a pea sized amount is ideal for toddlers.

9. MAM Learn to Brush Set
This brush set has been developed with dentists to suit baby's teeth. It has a rounded head that adapts perfectly to baby's mouth, and it contains a Massaging head for massaging your baby's sensitive gums. With the use of this baby's brush set, your baby will get used to routine oral hygiene step by step with our help. Grab your money today and order this brush set and make your child brush his/her teeth as an adult.

10. Baby Banana Bendable Training Toothbrush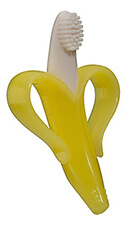 Do you have a toddler that is 3-12 months? It is a time that you teach it the importance of brushing its teeth by buying him/her this brush. It has a 'peel-ing' handle that is easy for the baby to hold and prevents choking. The bendable soft silicon that has been used reduces the risk of injury and provides the safest learning experience. It helps to soothe sore teething gums with durable massaging bristles.

Protect you children by buying them any of these best children toothbrush and you will enable your kids to learn how to clean their teeth. You can also trust our brushes that are also affordable. Don't get misguided and buy fake products. Ours come with manufacturer's information and also sealed well. Try us and you won't regret anything but instead have joy always with your kids.
All True Stuff is a participant in the Amazon Services LLC Associate Program, and we get a commission on purchases make via our link.