Any traveler, parent or sports enthusiast knows the importance of keeping a quality first aid kit within easy access. In many instances, a first aid kit can mean the difference between life and death.
They are necessary for treating injuries and ailments that occur at home by helping reduce the severity of the injury or risk of infection, whether you are dealing with a minor injury or a more serious ailment. In some cases, taking a first aid class with the Red Cross can help you understand how to use all the supplies in the kit.
It is always advisable to bring your first aid box in the car while travelling in order to treat any problem that may occur immediately. The contents usually include various items that can help treat scrapes, cuts, injuries such as burns & sprains, in addition to supplies for various common ailments.
A first aid kit should also include instructions on how to treat certain ailments, and explain what each tool in the box treats and exactly how it does that. Always ascertain there is a wrap inside, in case of a sprain, as well as gauze for covering open wounds. A medical tape will come in handy to keep the gauze or wrap on the skin. Band-Aids are equally significant for dealing with minor cuts and scrapes. Rubbing alcohol is used to clean out open wounds, while hand sanitizer serves to wash and disinfect the hands of the individual treating the wound. Antibiotic cream, on the other hand, is good for scrapes and cuts.
To this end, there are very many kits on the market today, which can make it pretty hard to pick out the best one for your particular lifestyle. Without further ado, here are the top ten first aid kits on the market to choose from this year.
10. First Aid Kit Bag For Travel
This simple, lightweight travel bag contains everything a kit should. From emergency eye wash to medical scissors, with every kind of bandage imaginable. Better yet, the kit can fit in a glove compartment or even be carried like a backpack for hikers. Hard cases too often break or get damaged. But this FDA approved soft bag is perfect for small injuries or earthquakes and other natural disasters.


9. First Aid 326-piece Hard Red Case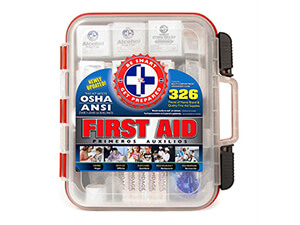 A comprehensive set to ensure aid for any injury that meets or exceeds OSHA guidelines. The 326 pieces are divided into two separate layers for large and small first aid products. The shelves tilt for easy access or to refill.


8. Verco 106-piece Hard Case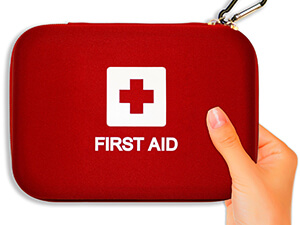 This sleek hard case kit is perfect for a glove compartment and contains clearly defined pockets for each of its many items. The real selling point is the CPR booklet contained inside – a value of $19 dollars. However, the CPR knowledge provided is priceless.


7. MeddiCo 106-piece First Aid Kit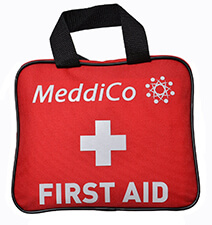 This soft carry bag contains all the essential products for any emergency as well as two blankets and rain ponchos. The soft bag allows more flexibility in storage, weighing in at only 1.4 pounds.


6. Goldeneye Supply 48-piece Aid Kit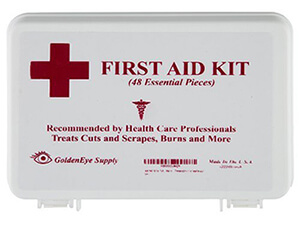 You may recognize this classic design hanging in school busses across the country. The kit is contained in a durable hard plastic shell; and while it may contain only 48 products as opposed to other, more comprehensive kits, but it also includes an aid guide and is recommended by health care professionals.


5. First Aid 256-piece Premium Kit
Not only is this kit rated Amazon's best premium kit, it leaves room to include your own pain or antibiotic medications and aid supplies. Also includes an emergency hammer and CPR mask.


4. Complete Mini First Aid Kit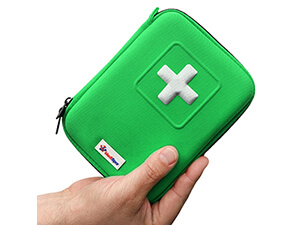 A convenient, durable hard case that is perfect for travelling or playing sports. A well-organized kit of 36 supplies and an Aid guide. Also comes with the guarantee that if a customer can find a more comprehensive kit at this price range on Amazon, they will offer their kit free of charge.


3. All-purpose 299-piece Kit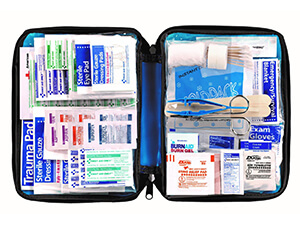 118 of the products in this kit are physician recommended supplies. It is complete with medicine, antiseptics and bandages of all sizes. It's soft carry vinyl case makes it perfect for travelling by car or boat. Also fits well within a backpack.


2. ResQue1st Complete First Aid and Emergency Preparedness Case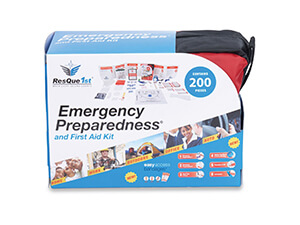 This 200-piece kit is the ultimate in emergency preparedness. Apart from standard first aid supplies this combination case also contains a radio, flashlight, light stick, poncho, blanket and burn cream. For just about any situation you can imagine, ResQue1st's will ensure quality aid. Perfect for hiking, camping or even marine activities.


1. First Responder Orange Trauma Bag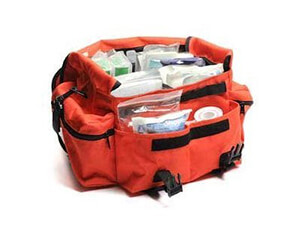 This best selling item four years in row goes beyond just first aid and contains items necessary in case of fire, earthquake, tornado or any natural disaster. In addition to the standard set of first aid products, it contains a stethoscope, scalpel, instant glucose and a pocket CPR resuscitator. Owners will never be unprepared.


These are the very best first aid kits currently available on the market. While it is important to note that any injury or wound requires proper medical attention, a well-stocked first aid kit can play a vital role in avoiding infection or blood loss. So whether you're just playing sports or are struck by a sudden natural disaster, any of the above kits will help guarantee wounds, burns and other injuries are properly tended to.
All True Stuff is a participant in the Amazon Services LLC Associate Program, and we get a commission on purchases make via our link.