A camera backpack is an essential need to a person who uses their camera on a daily basis. It is therefore important to gather information that will assist in choosing the best camera backpack that suits your needs. This is a list of ten camera bags that may give some insight on the best bags there are. Here is our top ten best camera backpack reviews.
10. Camera backpack for women
It is made of nylon that prevents water from entering the bag. The material is also thick in order to absorb shock. The backpack has a compartment that can hold a laptop of up to 14 inches. It is suitable for SLR cameras. It has a beautiful design and a great green buckle that makes it suitable for women. It also has a well-padded shoulder pad and strap that makes it comfortable to travel with.


9. Evecase canvas travel camera backpack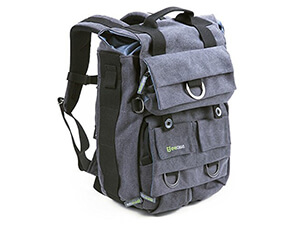 The Evecase backpack can carry a DSLR camera and two to five lenses. The design of the bag is very fashionable and also has thick, comfortable shoulder pads that ease travelling. It also has a laptop or Tablet compartment that can easily be accessed by the zipper from the side or inside the bag.


8. Aktiv professional camera backpack
The backpack has an ail weather cover that protects it from the rain, dust or sand. The bag is roomy and has pockets for storing the camera and other accessories. The main compartment has smaller partitions that can accommodate a range of camera lenses. It also has a compartment in the back that is well padded that can be used to store a laptop of up to 17 inches.


7. Evecase extra-large travel backpack
The Evecase travel backpack has versatile functions. Not only can it carry DSLR cameras but it can also carry widescreen laptops or notebooks of up to 15.6 inches or even a tablet. It has a rain cover, multiple pockets and a tripod holder that has straps. The well-padded shoulder straps, the modifiable waist and chest straps make it more comfortable to carry.


6. BESTEK caden camera backpack
The backpack has a dense, waterproof, nylon cover that protects it from rain, sand and dust. It is spacious with customizable partitions hence it can be able to hold the camera and other accessories. The main partition can hold the cameras, lenses and other camera related equipment. It has a lining of fabric that is used to protect the equipment. It has a removable waist belt and an adjustable sternum strap that help in balancing the weight.


5. Valufoto caden K1 black sling camera bag

The Valufoto camera bag is best for carrying DLSR cameras. It can accommodate the camera and some other accompanying equipment. The foam dividers can be removed in order to create more room to fit other equipment in the bag. It also has pockets that allow more items to be stored.


4. Case logic CPL-107GY sling camera bag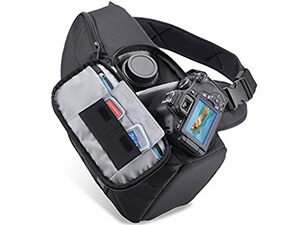 This camera bag can carry most DSLR cameras, one or two additional lenses, flash and other small devices. It has customizable compartments that are well adequately padded to enhance protection. It also allows one to adjust the compartment that holds the camera. It has a small slip pocket for storing the internal memory card. The weather hood covers the whole bag hence protecting it.


3. BESTEK waterproof backpack camera rucksack
The bag has a high quality canvas exterior that is well cushioned that act as a shock absorber hence protects the camera and other equipment. It has several pockets with adjustable partitions for storing the camera and other accessories depending on a person's preference. The bag can hold a lens, Canon or Nikon SLR cameras and other suitable cameras.


2. Lightdow waterproof QR camera bag
The bag is made of polyester and has a nylon cover on the outside that makes it waterproof. It has ample interior storage and the light material makes it suitable for daytrips. It also has adjustable compartments that are well-padded in order to protect the equipment. The abundance of pockets and pouches allow other gadgets to be stored inside. The straps are also adequately padded to make it more comfortable when carrying the backpack. The backpack can carry one SLR/DSLR camera, one or two lenses and some other small equipment.


1. Acuvar professional camera backpack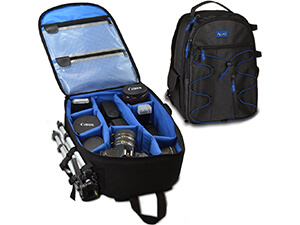 The polyester backpack has thick adjustable foam that ensures the devices in the bag are well protected. It is well -spaced and can accommodate three to four lenses, two DLSR Cameras or two small Camcorders and other devices such as flashes.


Up to this point we can make a conclusion that indeed the top mentioned camera backpacks are the best. This top ten best camera backpack reviews list provides some insight on the best camera backpacks. Camera backpacks that gives real value for money. These camera backpacks have got unique and excellent features these make them perfect for use under any weather conditions. Are you looking for the best camera backpack that will be perfect for all your needs, read through this list of the top 10 best camera backpacks and select the best for you.


All True Stuff is a participant in the Amazon Services LLC Associate Program, and we get a commission on purchases make via our link.